7YYD0008 Health Policy and Healthcare Systems in Emerging Economies
Rest of university 2018/19
This course introduces students to the theoretical and empirical study of contemporary health policy and healthcare systems, exploring topics of particular relevance to populations in emerging economies. Students will explore the complex relationships between health and economic development and engage with key relevant debates and issues within the critical social sciences and public health disciplines. The first part of the module engages with broad issues of health including the structural causes of ill-health in middle income countries, social inequalities and the political economy of health. The second part looks more closely at healthcare systems including aspects of commercialisation and consumption, the social construction of healthcare places, social stratification and access to healthcare, mobilities and the global healthcare economy.
Essential and recommended general texts to read before the start of the module

5 items

Each session has Core (Essential) and Recommended Texts. Core texts must be read and summarized before the workshop session. In some sessions these will also form the basis for student presentations. Recommended readings and Additional follow-up readings help you to investigate an aspect from a session further or flag up studies related to specific countries. Your essay should include reference to these texts where relevant to your topic you're your research should also go beyond them to find other material. For those who have little prior knowledge of health and health systems, here are some suggestions for background reading. These will provide you with perspectives on health and health policy that will be useful throughout the module. It is not required to buy the books as most material will be made available as online resources.

Session 1: Public health, structural drivers and inequalities

12 items

In the first week we introduce the course, discuss the expectations and the weekly outline. We discuss what is understood by 'public health' and how thinking around it has evolved in relation to ideas about illness and economic development. We then consider the burden of disease in rapidly growing economies and the underlying drivers of disease. The concept of intersectionality will be introduced to help understand social inequalities observed in patterns of ill-health.

Session 3: Road traffic injuries as a public health concern

16 items

Road traffic incidents are the leading cause of death amongst people aged 15-29, yet are rarely seen as a priority concern for health. In this session we examine the burden of ill-health caused by road traffic incidents, the key risk factors and the interventions needed to improve public health. Our country case study this week is motorised transport and road safety in South-East Asia. The session introduces the 'health policy triangle' as a framework through which to analysis health policy, and we apply this to the case of one recent policy approach that has been used to formalise and extend public transport in urban settings: the bus rapid transit system.

South-East Asia case study

Session 5: The political economy of non-communicable diseases

19 items

In the past two decades, non-communicable diseases (NCDs) such as diabetes, heart disease and cancer, have emerged as the biggest causes of death in the emerging economies. This session introduces students to a political economy interpretation of the problem and its drivers. We will look at the complex international and domestic politics surrounding policy responses to these health issues. We will look at the complex politics surrounding policy responses, what influences the balance of prevention and treatment, and issues of trade, law and governance. Our case example is nutrition and activities by the global food and drink industry in Mexico.

Session 4: Working lives: how quality of employment affects health

19 items

This session considers health and safety aspects of work, a range of policy responses including the ILO's 'decent work' initiative, and how quality of employment might be measured in relation to health. We analyse the different actors and interests involved in preserving/undermining fair working conditions, and the issue of responsibility for workplace health in global production networks. Our country case study is the garment industry in Bangladesh: source of much of our clothing and site of the Rana Plaza industrial disaster. Who should be responsible for workers' health in a globalised economy?

Session 2: Urbanisation and health: neighbourhoods and social exclusion

16 items

This week we look at public health consequences of rapid economic growth, modernization and urbanization for emerging economies. We consider the range of ways in which physical and social environments affect health and well-being, with particular attention to social inequalities in urban health. China is used as a case example of the challenges posed for collective health in rapidly urbanising environments, including food supply and food safety, internal migration and urban growth. The session concludes with group-based analysis of visual materials from the urban environment in London.

Geographies of health: an introduction - Anthony C. Gatrell, Susan J. Elliott 2015

Book Core Chapter 6: Neighbourhoods and Health - this focuses on the USA, but you should use these ideas to think about how the urban environment affects health in emerging economy settings

Session 9. Healthcare, poverty and Universal Health Coverage

15 items

The majority of the world's poor live in middle-income countries. This week looks at the interaction between poverty and illness, paying particular attention to the mediating roles of social structures and the dominant methods of financing healthcare. We examine the social implications of healthcare costs using the example of women who survive an obstetric 'near miss', and then critically analyse the emergence of 'Universal Health Coverage' as a concept to break the healthcare-poverty cycle. Who benefits from the prevailing models of UHC?

Session 6. Commercialisation and the trajectory of markets in healthcare

20 items

This week introduces the idea of markets in the healthcare sector. We use the concept of commercialisation to review ways in which healthcare systems have changed over the past 40 years and some of the social, political and economic drivers of these changes. These changes are unpacked by thinking about the flows ('mobilities') in people and money and we explore some of the latest commercialisation developments in the healthcare sector, including the growing markets for healthcare investment, intermediaries and insurance.

Session 7. Consumption, place and healthcare

13 items

This session introduces students to ideas about place from medical geography and sociology and considers how these may help us to analyse and understand the 'consumption landscapes' of healthcare that have emerged in middle income countries in an era of neoliberalisation. We consider the types of data available for studying place in healthcare, and the appropriate methods for data collection and analysis. Our case study is the concept of the 'medicity'; most closely associated with India but increasingly apparent in other emerging economy countries.

Building a biopolis - David Cyranoski 2001-7-26

Article Recommended To access the article through this link you may need to log in to Nature (right hand side of page towards foot) and follow Institutional Login

Session 8. Global care chains and the offshoring of reproductive labour

19 items

This week continues our analysis of how mobilities in people have manifested within healthcare economies using the example of transnational mobility of the healthcare workforce. We use the global care chain concept to consider how these mobilities affect social relations, varyingly reproducing and challenging gendered and racialised assumptions in the destination and source country of healthcare workers. In the second part of the session we focus on mobilities in body parts using the examples of global organ trades and the markets in assisted reproduction. These markets have been permitted by social and technological changes, and while some argue they are empowering, others argue they are exploitative. Should commercial surrogacy be legal?

Session 10: Global health governance for the 21st century

17 items

This week we examine the governance of global health and the changing fortunes of different institutions over the past 40 years. Drawing from across the previous nine weeks in the module, we consider the range of actors that now influence health, health policy and healthcare systems in emerging economy countries. The concept of health diplomacy is introduced as we think about how this range of actors interact with one another, with particular focus on the positions adopted by emerging economy countries as global health actors. The session concludes with discussion on how the interests of particular actors has driven the advancement of particular health issues at the expense of others. What should we think about philanthrocapitalism in health?
All rights reserved ©
Profile Required
Reading intentions and notes are stored against your user profile. Please create a profile to use this feature.
My notes
You must be logged in to add a note
What are item notes?
You can use item notes to make personal notes on any of your reading items. Notes are private to you and will not be shown to other users.
You can review your item notes from the list, the item page or from your profile page.
---
How do I create an item note?
To make notes, first you must be logged in. Once logged in, simply click Add note? next to the list item you wish to make notes on. You can also make notes at the bottom of every item's detail page.
Your note will be saved automatically as you type.
Have you read this?
You must be logged in to set a reading intention
What are reading intentions?
Setting up reading intentions help you organise your course reading. It makes it easy to scan through your lists and keep track of progress. Here's an example of what they look like: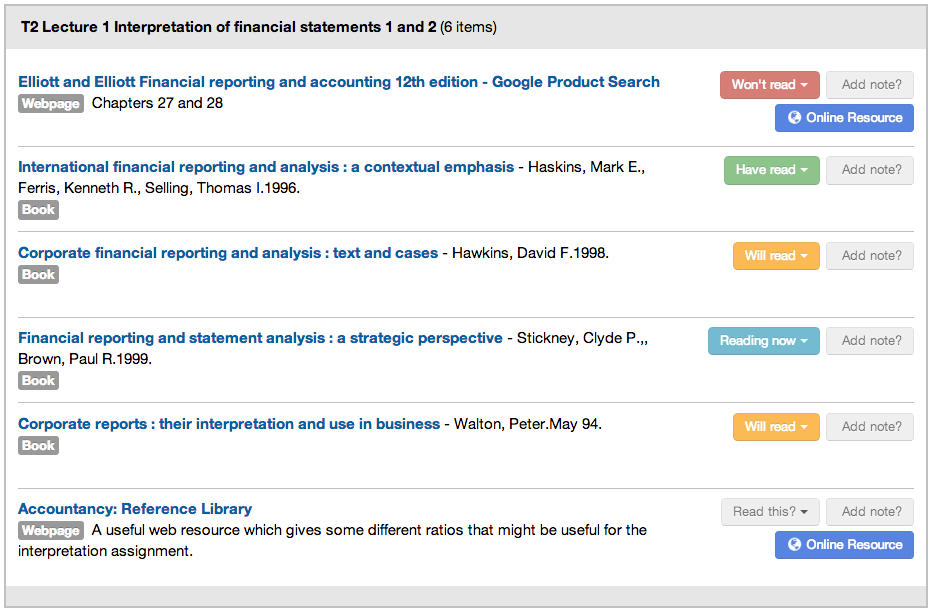 Your reading intentions are also stored in your profile for future reference.
---
How do I set a reading intention
To set a reading intention, first you must be logged in. Once logged in, click Read this? next to the list item you wish to set a reading intention for.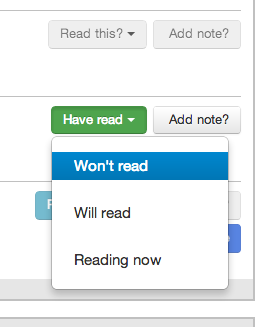 You can also set the reading intention from every item's detail page.